Greetings from NYC!
The weather here is lovely today, so I have been out and about running errands. I noticed that velvet is definitely in for the season; everyone seems to be wearing it. I used to think that velvet was only used in vampire movies, but done the right way, velvet can look opulent,  luxurious, and expensive.
Golden rule of velvet: the fabric itself makes the statement, so stay with neutral colored velvet.
Since velvet is such a thick fabric, you want to show some skin to break it up. This plus size tube top is great to wear out during the Winter/Fall.
Target.com
These plus size velvet leggings started my obsession with the fabric. I saw them at Target and ended up not buying them because I couldnt think of an outfit to wear with them. BIG REGRET. They can add a sense of style to a white t-shirt and boots.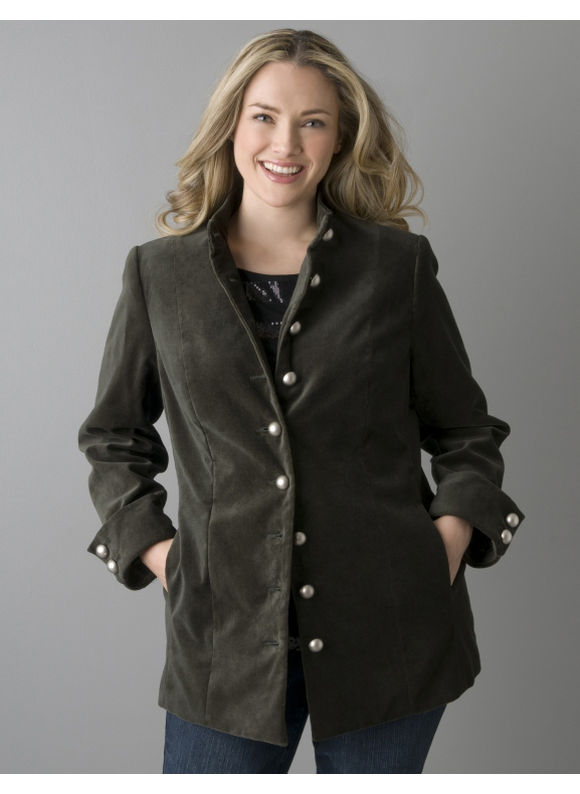 Lane Bryant Women's Plus Size/Ivy Velvet military jacket – Size 16
Brand: Lane Bryant
I tried this one in one of my YouTube videos  (http://www.youtube.com/watch?v=NwEB8_P5Qxs).I can say from experience this is a perfect jacket. The length is great because it gives the appearance of a longer torso. The vertical buttons also give you length, as well as, being right on trend with the military style.
Have a good weekend!
Related Posts:
Tags: plus size, plus size clothing, plus size coats, plus size trendy, plus size tube top, plus size velvet, plus size velvet leggings, plus size velvet military jacket, plus size velvet tube top